DeSantis to visit Iowa next week before expected 2024 bid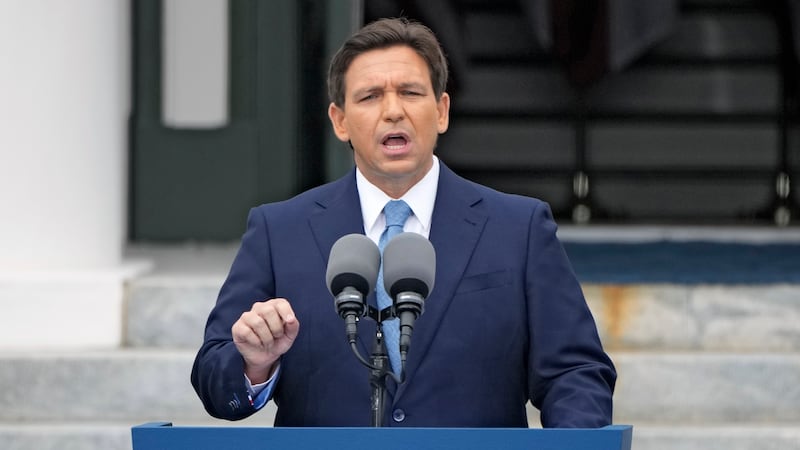 Published: Mar. 2, 2023 at 12:43 PM CST
DES MOINES, Iowa (AP) — Florida Gov. Ron DeSantis is planning his first visit to Iowa next week, making a stop in the leadoff Republican voting state before an expected 2024 presidential announcement later this year.
DeSantis has scheduled events on March 10 in the eastern Iowa city of Davenport and the state capital, Des Moines, to promote his new book, "The Courage to be Free." He will be accompanied by Iowa Gov. Kim Reynolds, who has said she plans to remain neutral before the 2024 Iowa caucuses.
The plans were confirmed by two aides to Republican officials who spoke to The Associated Press on Thursday on condition of anonymity because they were not authorized to preempt DeSantis' announcement.
DeSantis has been ramping up travel around the country as part of his book tour and as he prepares to launch a bid for the White House, likely in late spring or early summer.
After a slow January, Republican presidential prospects began stepping up their Iowa travel last month and plan to continue this month. Notably absent so far have been DeSantis and former President Donald Trump, who announced his candidacy in November.
On Wednesday, aides to Trump announced he planned to make his first Iowa visit of the 2024 campaign this month, though his team provided no details for the trip.
Former United Nations Ambassador Nikki Haley, who announced her candidacy last month, was in Iowa in late February and plans to return next week to host two town halls and participate in a foreign policy event with Republican Sen. Joni Ernst in Des Moines.
As for other potential candidates, former Vice President Mike Pence was in the state last month rallying conservative parents against a gender-affirming policy in an eastern Iowa school district at issue in a federal lawsuit. Pence is expected back in Iowa on March 18. South Carolina Sen. Tim Scott was in the Des Moines area last week to deliver a speech at Drake University and headline a county Republican Party dinner in the state's most populous county.
Copyright 2023 KCRG. All rights reserved.