DeVries leads Drake past Bradley for MVC title, NCAA berth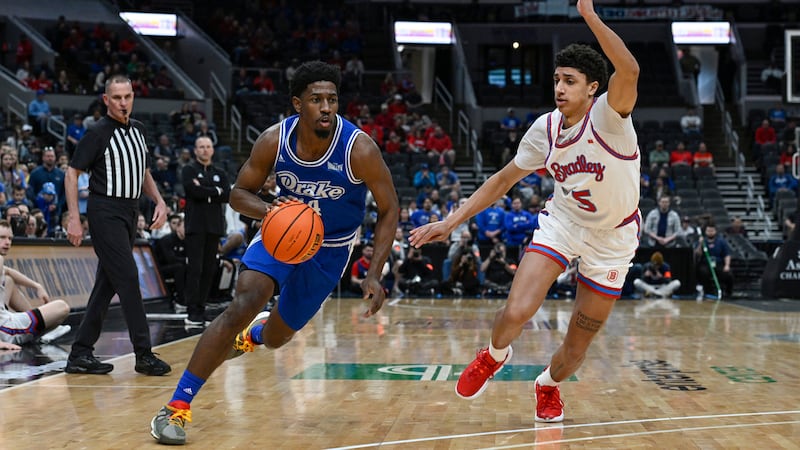 Published: Mar. 5, 2023 at 8:16 PM CST
ST. LOUIS, Mo. (AP) — Tucker DeVries scored 22 points and second-seeded Drake raced to its sixth NCAA Tournament berth with a 77-51 romp past top-seeded Bradley on Sunday in the Missouri Valley Conference Tournament championship game.
Garrett Sturtz and Darnell Brodie added 12 points apiece for the Bulldogs (27-7), who were in the title game for the third-straight year, losing the first two to Loyola of Chicago. They last won the tournament in 1996.
Brodie's 3-pointer, his first attempt of the season, as the shot clock wound down in the closing minute was indicative of the game.
The Bulldogs hit 8 of 14 3-pointers and 28 of 50 overall while the Braves, trying to get to their 10th NCAA tourney, shot 34% (19 of 55).
Jo'Shon Henry scored 10 points and was the only player in double figures for Bradley (25-9). The Braves entered with a 12-game winning streak, including a 73-61 win over Drake on the final day of the regular season to win their first league title since 1996. That game ended Drake's 10-game winning streak.
"The biggest difference is we had our whole roster," Drake coach Darian DeVries said. "Our depth was really critical in this game. We have a veteran group and they really, really wanted this game. They've been here before and they were really hungry to get this one."
The Bulldogs are the fifth oldest team in the country with two of the five 25-year older players at the D-I level. But Tucker DeVries, the coach's son, is just a sophomore, and wasn't around when they got an at-large bid in 2021. Last year DeVries was the MVC Freshman of the Year and this season was the Player of the Year.
"All the guys, but obviously, having your son and being able to share that moment with him, I'm incredibly proud of him," Darian DeVries said.
"It feels good. It's what you dream of," Tucker DeVries said. "I've came to this tournament my whole life but to be able to do it in my own shoes, it feels so good."
The Bulldogs had an early 12-0 run to take a 14-3 lead and later a 16-5 run helped them take a 41-21 lead at the break. Drake was 5 of 10 from 3-point range and 14 of 29 overall while Bradley shot just 26% in the half.
After that, the lead was never below 17 — when Bradley hit a 3 to open the second half — and was as large as 32 after Brodie's 3.
Copyright 2023 KCRG. All rights reserved.