Florida Gov. Ron DeSantis tests the waters in Iowa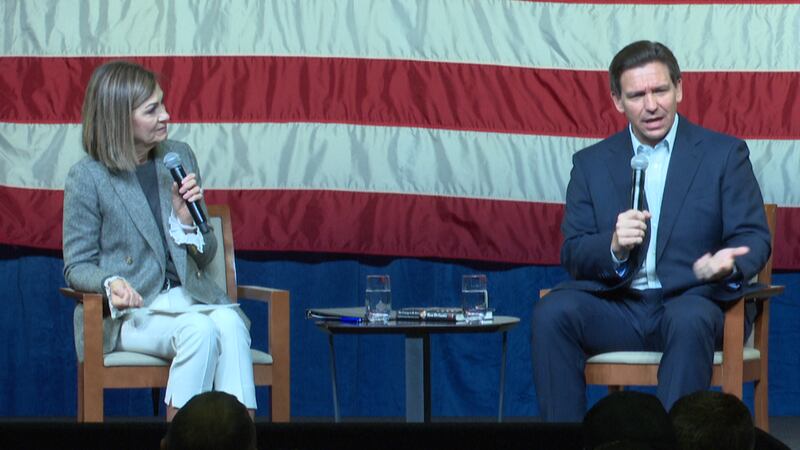 Published: Mar. 10, 2023 at 4:38 PM CST
DAVENPORT, Iowa (KWQC) - A big name in the Republican Party visited Iowa on Friday, testing the waters for a potential presidential run in 2024.
Over 700 people came to the Rhythm City Casino in Davenport to see Florida Governor Ron DeSantis promote his latest book.
He hasn't officially announced his intentions to seek the GOP nomination yet. However, many eventgoers said they are ready to vote for him.
"I hope he does run, I'm assuming he probably will." said one attendee from Iowa.
"I could certainly vote for Ron DeSantis, no doubt about it," said another.
One couple from Illinois came to the event and said his message resonated with them.
"If he decides to run — I hope he does," the couple said. "We hope he does. He's young — All across the board, both parties, I think we need to see some younger people take over."
Iowa Governor Kim Reynolds joined DeSantis at the event introducing him to the standing-room-only crowd.
She applauded their performance in the 2022 midterms.
"Florida voters elected Republicans up and down the ticket. Sounds a little familiar, doesn't it?" Reynolds said. "By golly in Iowa, we bucked that national trend too."
During his remarks, DeSantis compared Iowa's COVID response, school choice legislation and fiscal management to Florida's.
The event was slated to promote his book. Yet, his speech was mostly political, as he continues to flirt with the idea of running for president.
"We will fight the woke in the legislature," DeSantis said. "We will fight the woke in education. We will fight the woke in the businesses. We will never ever surrender to the woke mob. [Florida] is where woke goes to die."
DeSantis and Reynolds also stopped Des Moines on Friday.
The visit comes as Republican hopeful Nikki Haley visited Council Bluffs and the Des Moines area this week. Former President Donald Trump will make a campaign stop in Davenport on Monday at the Adler Theater.
Copyright 2023 KWQC. All rights reserved.