Mural will showcase Briar Cliff University's history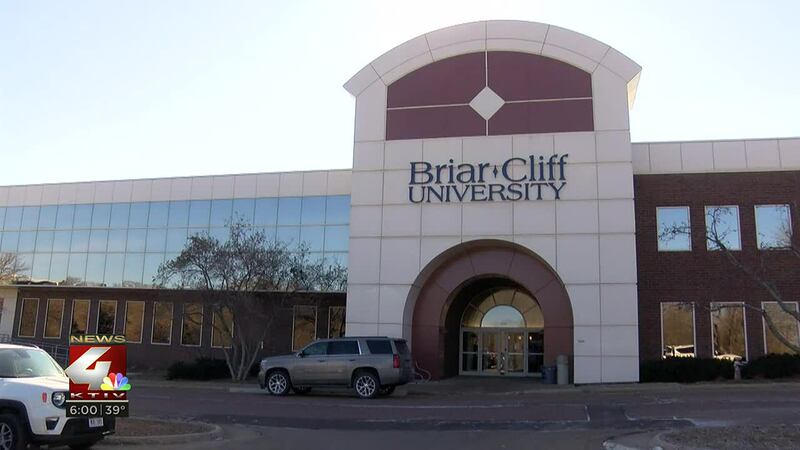 Published: Mar. 11, 2023 at 11:33 AM CST
SIOUX CITY, Iowa (AP) — On March 30, 1930, Sioux City Bishop Edmond Heelan and the Sisters of Saint Francis from Dubuque held a cornerstone dedication ceremony for Heelan Hall.
Almost 93 years later, Briar Cliff University is honoring that ceremony and the history of the university with a mural depicting a picture from that day.
A new mural is taking shape at Heelan Hall at what was originally the main entrance.
The mural showcases a well-known picture of Bishop Heelan and the founding sisters during the dedication ceremony.
Nan Wilson, an assistant professor of art at Briar Cliff, is creating the mural. She has taken the original picture and extended it, to show the event, but also what an onlooker would have seen beyond the picture, such as Sioux City at the time and the fields of prairie grass -- which is now the largest urban prairie in the United States.
"If you go out this doorway, this is what you saw back then," Wilson told the Sioux City Journal.
The project was initiated by Brian Hazlett. He is a professor of biology and environmental science at Briar Cliff and was inspired by attending a North American Prairie Conference in Winona, Minnesota. In the city's administration building, there was a similar entrance that had a mural.
He thought it would be a good idea to do something similar to showcase Briar Cliff's history. Hazlett said many people know of Bishop Heelan, but he felt students in the future should know more about the founding sisters.
The university received a $10,000 Gilchrist Foundation grant. Wilson began painting the mural on Jan. 8 and is about halfway through the project. She hopes to complete it by mid-April.
Wilson has painted a variety of murals throughout Sioux City. She said she enjoys painting on a large scale. Unlike other murals that are done with spray paint, Wilson is brush painting the Briar Cliff piece.
She said she has enjoyed working on the mural and have had people stop by to see where they live now and how the view now compares to 1930.
"I'm pleased that many people are noticing the landscape in the background of the main event," Hazlett said.
Next week, the scaffolding will be moved and Wilson will start painting the sisters and bishop.
Copyright 2023 The Associated Press. All rights reserved.