Two from Norwalk charged with murder in baby's death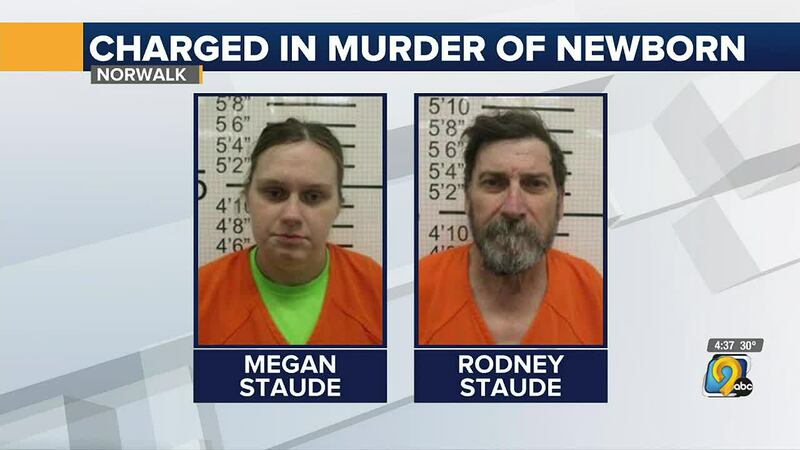 Published: Mar. 15, 2023 at 6:28 AM CDT
NORWALK, Iowa (KCCI) - A Norwalk woman and her father have been charged with first degree murder in the death of a newborn baby.
According to court documents, Megan Staude, 25, gave birth to the baby boy in late February. But officials say she put the baby in a box and didn't care for him for two days.
Staude's father, 64-year-old Rodney Staude, allegedly helped her place the baby in a trash bag. He was still alive at the time, according to court documents. The baby stayed alive for several minutes before he stopped moving.
The bag with the baby's dead body was then placed in a ditch outside Norwalk. Police later used cadaver dogs to help find the body.
Authorities said Megan Staude gave them conflicting information about the death of the baby. She initially told authorities the baby had died on the way to the hospital, and she was told to go bury him. She later admitted to the circumstances of the baby's death, according to court documents.
Police told KCCI that Megan Staude's coworkers grew suspicious and contacted police after noticing she was no longer pregnant, and her story didn't add up.
An autopsy has been conducted, and results are pending. The investigation remains ongoing.
Officials from Iowa Health and Human Services said cases like this highlight the importance of Safe Haven Laws.
Any child up to 90 days old can be left at any hospital or health care facility, and parents will not face any prosecution.
People can also surrender babies by calling 911.
Copyright 2023 KCRG. All rights reserved.