'Buckle up, baby' Iowa DOT Roadside Chat celebrates Iowa Hawkeyes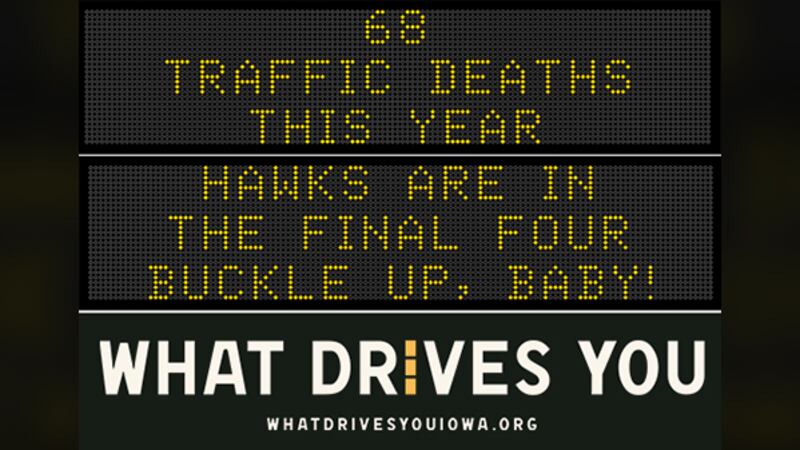 Published: Mar. 31, 2023 at 9:09 AM CDT
CEDAR RAPIDS, Iowa (KCRG) - The Iowa DOT is celebrating the Iowa Hawkeyes women's basketball team ahead of their Final Four game in Dallas with its latest Roadside Chat.
The sign is also a reminder to buckle up for safety while in the car, and a reference to famed basketball sportscaster Dick Vitale - known for his catchphrase, "This is awesome, baby!"
"Hawks are in the Final Four," the sign reads. "Buckle up, baby!"
The text on the sign also lists the number of traffic deaths that have happened so far this year, at 68.
In a Facebook post Friday morning announcing the Roadside Chat, DOT staff referenced the Hawkeyes' discipline and formation of good habits as a way to remind Iowa drivers to maintain the good habit of buckling up while in the car.
The Iowa Hawkeyes play the South Carolina Gamecocks at 8:30 p.m. in Dallas. The game will air on ESPN.
Copyright 2023 KCRG. All rights reserved.