Czinano, Warnock to play final weekend in a Hawkeye jersey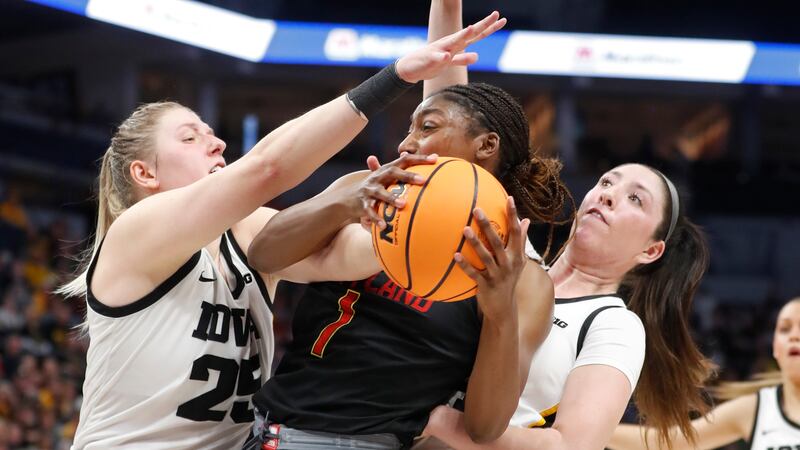 Published: Mar. 30, 2023 at 8:40 PM CDT
DALLAS, TX (KCRG) - This will mark the last weekend that Iowa's starting five will take the court. The unit has been together for the last three consecutive seasons and is a big reason the Hawkeyes have made it to the Final Four for the first time in 30 years.
"Having that chemistry is something that other people aren't able to have. We've been together for three years now," senior forward McKenna Warnock said. "It just shows that Coach Bluder is able to bring a group of girls together. We work so well together."
Following their trip to Dallas, Iowa will say goodbye to Warnock and fifth-year center Monika Czinano. Warnock, a senior forward, averages 11.1 points per game and is tied for second on the team in three pointers made. She also ranks third in rebounds.
Czinano, a First Team All-Big Ten selection, was the fifth Hawkeye to eclipse 2,000 points. She leads the team in field goal percentage and sits second in points averaging 17.2 a game.
"Monika, she would tell you she never would have dreamed of becoming the post that she is today. It's taken a lot of hard work and I think McKenna is the swiss army knife. She doesn't always get the attention and credit she deserves," junior guard Caitlin Clark said.
The duo share a special bond on the court, but their friendship off of it is even stronger.
"Monika is amazing. It's going to be hard not seeing her every single day and she's just one of my best friends. She's just such a good person in general. Obviously an amazing basketball player, but an even better person," Warnock said.
"McKenna is just so phenomenal. On the court, she is just so steady. Any time I foul or get a little hot, I look at her and she just immediately cools me down right away. She's just a calming, steady presence," Czinano said. "Then off the court, we're in similar majors and have a lot of classes together. I feel like we've done college together a little bit."
Although their time is winding down together, their teammates cherish all they've put into the program.
"What they've done in their career is outstanding. I'm so proud to be not just their teammate, but their friend. They just have such a calming presence on the court and it's just so fun to play with," redshirt senior guard Kate Martin said.
"There's no better way than to be at the Final Four for them to go out. I think we're not done yet. We want to accomplish more here and I think they're so deserving of this. I'm just really proud of them and proud I got to play with them," senior guard Gabbie Marshall added.
The Hawkeyes are hoping to get to another practice with their teammates following Friday's game.
"It really hasn't sunk in yet. It probably will after the games, but i'm just so honored to be here. It's so good to be able to go out in a Final Four," Warnock said.
Copyright 2023 KCRG. All rights reserved.