Cyclones turn to revamped staff to get offense going again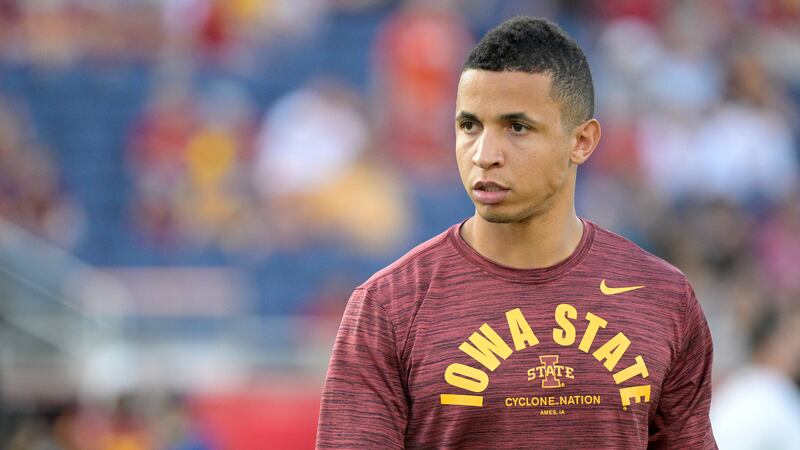 Published: Apr. 19, 2023 at 11:19 AM CDT
AMES, Iowa (AP) - Iowa State made a fast descent to the bottom of the Big 12 last season, just two years after its best football season in school history.
Coach Matt Campbell spent December and January studying what worked and, more importantly, what didn't in a 4-8 season in which the Cyclones won just one Big 12 game. They kept coming back to the failings of the offense — and there's a palpable sense of urgency ahead of Saturday's spring game.
"I think everybody's being pushed right now," Campbell said. "The head coach is being pushed, our coaches are being pushed, our players are being pushed. So I think any time you don't reach the results you would want, there is a deep dive into everybody's accountability to being pushed to be the best."
An offense featuring a physical run game mixed with explosiveness in the pass game, plus a heavy dose of tight ends, was a proven winner when the record-setting Brock Purdy was quarterback from 2018-21. Two years ago, the Cyclones were in the Big 12 championship game and beat Oregon in the Fiesta Bowl. They're 11-14 since.
The problem, Campbell said, isn't the system.
"You look at what we've done here, over the course of that last seven years, we've had phenomenal offense," Campbell said. "The best offense in the history of this school over the course of seven years."
The dropoff began in 2021, before Purdy left and became an unexpected sensation with the San Francisco 49ers and before Breece Hall was the first running back taken in the 2022 NFL draft.
After seeing his offense score just 20.2 points per game — its lowest average since 2007 — Campbell decided it was time for a new voice and fired offensive coordinator Tom Manning.
Nate Scheelhaase was promoted from running backs and receivers coach to coordinator, and his charge is to revive a unit that was last in the Big 12 in scoring, rushing and total offense.
Three position coaches were hired from the outside. Offensive line coach Ryan Clanton (Northern Iowa) takes over a group that gave up a Big 12-high 23 sacks in conference games. Running backs coach and special teams coordinator Jordan Langs (NAIA Indiana Wesleyan) will try to ignite a run game that averaged a 3.3 yards per carry. Receivers coach Noah Pauley (North Dakota State) must find a way to replace one of the most prolific receivers in conference history in Xavier Hutchinson.
Campbell is counting on the hiring of Reid Kagy as the new strength coach to improve an offensive line that returns four of the five starters.
Left tackle Tyler Miller reported for spring at 338 pounds, up from 316 last season, and right guard Darrell Simmons and right tackle Jake Remsburg also have resculpted themselves.
"Sometimes that's hard when you have older guys, to make such massive physical changes," Campbell said. "If we want to be the best, we have to consistently play at our best. I have great expectations for that group to do that. They certainly have the talent and ability to do that and now we have to put that together."
Freshman quarterback JJ Kohl, the highest-ranked player to sign with the Cyclones under Campbell, enrolled in January but is not expected to unseat Hunter Dekkers as the starter. Dekkers' main assignment this spring was to make better decisions. Last year he was intercepted 14 times, most in the Big 12 and tied for third-most in the nation.
Running backs Jirehl Brock and Cartevious Norton have been limited while recovering from injuries, which gave Eli Sanders and Stanford transfer Arlen Harris Jr. more repetitions.
Jaylin Noel is first in line to be the featured receiver following Hutchinson's departure. The Cyclones made a significant addition with Eastern Kentucky transfer Jayden Higgins, who has raised eyebrows with his hands and ability to make plays after the catch. Another freshman January enrollee, Beni Ngoyi, also has shown promise.
Noel, who caught 60 balls for 572 yards and three touchdowns last season, was primarily a slot receiver his first two years. He's gotten more repetitions at split end this spring.
"It's a 50-50 split," he said. "Being more on the outside this year, it's more interesting and fun as I develop my skills being out there."
Copyright 2023 KCRG. All rights reserved.