Fighter or optimist? Iowa Republicans eye Trump alternatives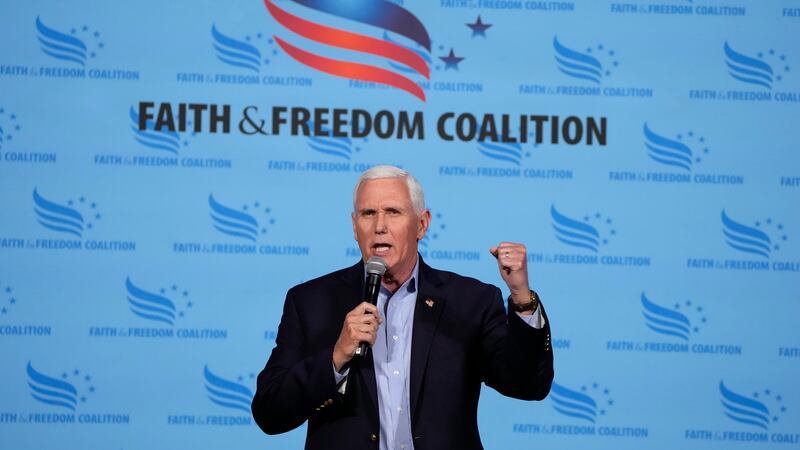 Published: Apr. 25, 2023 at 10:26 AM CDT
CLIVE, Iowa (AP) — Many loyal Republicans in the state that kicks off the presidential nominating season are searching for a White House hopeful other than Donald Trump. There's less consensus on what that alternative should look like.
Should a potential successor to Trump be just as pugnacious as the former president, but without the constant turmoil? Should that candidate be a next-generation inspiration with an upbeat message aimed at uniting a deeply divided country?
These questions hung over the first marquee event of the 2024 Iowa caucus campaign this past weekend, as nearly 1,000 GOP activists, party officials, volunteers and Christian conservatives crowded the floor of a suburban Des Moines event center for the Iowa Faith and Freedom Coalition's annual spring fundraiser. Trump remained a hero to many in the crowd though interviews with nearly two dozen attendees demonstrated the opportunity — and obstacles — for those seeking to challenge him.
"There's got to be somewhere we can get the force of a Donald Trump in a respectful tone," said Jane Jech, 66, of Marshalltown in central Iowa.
As the 2024 GOP field begins to form, Trump is in a dominant position among Republicans in both Iowa and around the U.S. The question is whether that will continue as the field grows and messages take shape. Arkansas Gov. Asa Hutchinson will formally unveil his campaign on Wednesday and others ranging from Florida Gov. Ron DeSantis to former Vice President Mike Pence are expected to do so in the coming months.
Iowa has a history of humbling candidates who are presumed to be early frontrunners, siding with Texas Sen. Ted Cruz over Trump in 2016 and former Pennsylvania Sen. Rick Santorum over Mitt Romney in 2012. If that tendency were to repeat itself, in this rare instance of a former president seeking a comeback, it would set off alarms for Trump.
Over boxed dinners of chicken sandwiches, the audience in Iowa heard in person from six presidential prospects including Hutchinson, Pence, South Carolina Sen. Tim Scott and businessman Vivek Ramaswamy. Notably absent were DeSantis, who was headlining the Utah Republican Party convention, and Trump, who addressed the group in a recorded video message.
"I kind of like the freshness of someone who can capture what can bring us together," said Perry Kyle, 38, from the western Des Moines suburb of Waukee, "someone who isn't afraid to tell it like it is, but has an uplifting message."
First out of Kyle's mouth was Scott, who recently announced he was forming a presidential exploratory committee. In Iowa, he offered his largest audience yet his call for optimism, reminiscent of Ronald Reagan and markedly different than Trump's typical list of grievances.
"We must restore hope, create opportunity and protect America, the city on the hill, the beacon in the midst of the storm," Scott said, sparking applause from the audience.
The comments resonated with Ling Yu Detrick, 29, from the eastern Des Moines suburb of Altoona. "He expresses common sense and does not come across as divisive. Trump is just too divisive."
That doesn't mean a swath of Iowa Republicans aren't itching for a fighter, and see DeSantis, perhaps, as that candidate.
DeSantis has unapologetically racked up conservative legislative achievements, including banning gender-affirming care for minors and eliminating diversity programs in colleges along with barring abortions after six weeks of pregnancy, all with a vocal contempt for Democrats.
"We will never surrender to the woke mob," DeSantis told an audience of more than 1,000 in Davenport, Iowa, last month, repeating his defiant mantra. "Our state is where woke goes to die."
DeSantis' record and tone appeal to Corey Daley, 37, from Des Moines, though he remains open to supporting Trump in the caucuses.
"We need a fighter, someone who is aggressive, otherwise you don't get nothing done," Daley said.
Similarly, Charlotte Heck, from Coon Rapids in west central Iowa, was torn between DeSantis, who is taking steps toward running, and Trump, who announced his bid for a comeback in November. Both are effective champions of conservative values, she said, but she finds Trump's personality distasteful while she is unsure of DeSantis' ability to deliver the way supporters say Trump did.
"I think I like DeSantis, but am not sure yet if he can get the job done the way we know Trump has," she said.
Heck's nod to Trump's record as president echoed throughout the audience, heavy with politically influential evangelical Christians, on Saturday. It's notable for a candidate who once supported abortion rights, spent decades boasting of his sexual exploits and faces felony indictment stemming from a hush money payment made to a porn actor who alleged having an extramarital affair with him.
But Trump's three U.S. Supreme Court nominees, who helped last year overturn Roe vs. Wade, the 1973 decision that had recognized a federal right to abortion, and other similar anti-abortion moves have absolved him among many.
Abortion has become an early point of debate in the preliminary stages of the 2024 campaign. Trump's position that abortion restrictions should be left to states, not the federal government, drew sharp rebuke last week from Susan B. Anthony Pro-Life America, a leading abortion opposition group.
But a number of evangelical pastors in Iowa, some who opposed Trump's candidacy in 2016, have pointed to the Supreme Court and other pledges he made to the religious right where he delivered, actions Trump noted by video to applause of the audience Saturday.
"I kept my promise, recognized Israel's eternal capital and opened the American embassy in Jerusalem," Trump said during his recorded remarks, prompting applause for what many evangelical Christians see as fulfilling biblical prophecy.
For Danielle Akey, the 2024 conversation begins and ends with Trump.
"Every person needs to get out, and get out of his way," said Akey, 37, from small-town Adel, west of Des Moines. "I like other ones who are running, but he's the one who can get the job done because he has gotten the job done."
Mary Butler, 78, of Pella, Iowa said flatly, "I think he is an American hero," though even she didn't know if she could vote for him again, because of the "forces conspiring against him."
The early assessment, with more than nine months until the caucuses, comes as Trump and Scott have made their moves, while former United Nations Ambassador Nikki Haley announced her candidacy in February. While DeSantis travels the country promoting a book and presses his legislative agenda ahead of a spring decision, Hutchinson plans to announce his candidacy Wednesday in his hometown of Bentonville, Arkansas.
Pence, meanwhile, has said he expects to announce his plans by June.
What seemed clear from conversations Saturday is that Hutchinson and Pence may struggle to find their place with Republicans looking for a post-Trump fighter or unifier. Hutchinson, who has said Republicans must turn the page from the Trump era, has since called for him to exit the race in light of the indictment. Pence, on the other hand, is met with respect as a devout Christian, but inspires little enthusiasm, interviews Saturday — and his polite, but muted reception — suggest.
"I don't think you'll ever see Mike Pence getting traction," said Jech, of Marshalltown. "A great guy. I have great respect for him. But he'll never get traction. He's just too milquetoast."
Copyright 2023 KCRG. All rights reserved.