South Carolina ready to renew abortion ban around 6 weeks of pregnancy after Senate vote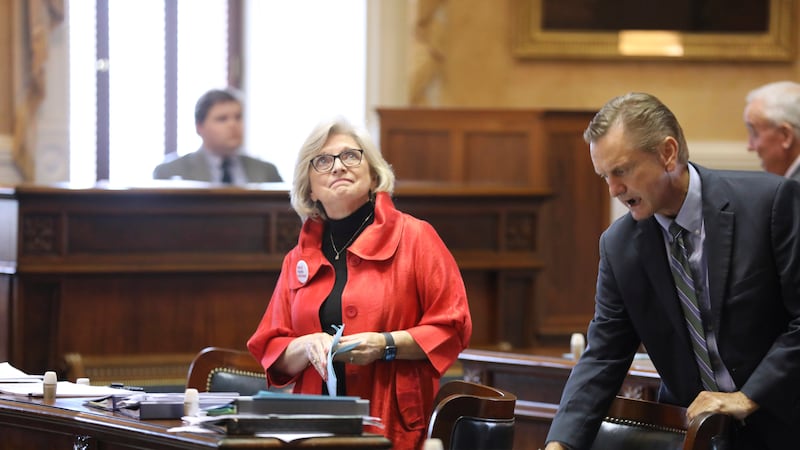 Published: May. 23, 2023 at 7:34 PM CDT
|
Updated: May. 23, 2023 at 10:31 PM CDT
COLUMBIA, S.C. (AP) — Abortion will soon be severely restricted in one of the last bastions for legal access in the U.S. South.
The South Carolina Senate approved a bill Tuesday that would ban most abortions after around six weeks of pregnancy — before most people know they are pregnant — and sent it to the Republican governor who has promised to sign the bill into law as soon as possible.
The proposal restores a 2021 ban that took effect when the U.S. Supreme Court overturned Roe v. Wade last year. The ban was overturned by the state's highest court because it violated the state Constitution's right to privacy.
South Carolina reported increasing numbers of abortions following that decision, which left abortion legal through 22 weeks of pregnancy, while other Southern states enacted stricter laws.
Abortion is banned or severely restricted in much of the South, including bans throughout pregnancy in Alabama, Arkansas, Kentucky, Louisiana, Mississippi, Oklahoma, Tennessee, Texas and West Virginia. In Georgia, it's allowed only in the first six weeks.
Most abortions after 12 weeks of pregnancy will be banned in North Carolina beginning July 1 after the state's Republican-controlled Legislature successfully overrode the Democratic governor's veto last week.
A legal fight is widely expected in South Carolina. Vicki Ringer, the director of public affairs for Planned Parenthood South Atlantic, said Tuesday evening that her organization would file a request for a temporary restraining order after Republican Gov. Henry McMaster signs the measure.
Any challenge that reaches the South Carolina Supreme Court would also face a new bench, as the lone woman who authored the leading opinion in the abortion case had reached the court's retirement age.
Senate Majority Leader Shane Massey expressed confidence the law would stand.
"It has been a long and bumpy road but it was an important debate to have," Massey, a Republican, told reporters Tuesday. "I'm glad we finally got a resolution on it. It's something that's going to make South Carolina not the abortion destination state of the Southeast and I think that's important."
The move marks the end of a monthslong impasse between the two Republican-led chambers. The South Carolina House backed off a proposal to ban abortion almost entirely at conception and passed the new restrictions last week after nearly 24 hours of debate split across two days. Senators had tried three times to muster the votes necessary for the near-total ban over the past year.
The latest attempt failed last month after the only five women in the 46-member chamber successfully filibustered the proposal. Members of the coalition known as the "sister senators" — three Republicans, one Democrat and one independent — again fought the new bill.
In blistering speeches, the three Republican women said the six-week ban did not give women enough time to make a decision. They urged other members of their party to adopt a 12-week abortion ban instead in what Sen. Katrina Shealy called a "real compromise."
"We in the South Carolina Legislature are not God. We do not know what's going on in somebody else's life. We do not have the right to make decisions for someone else," Shealy said.
Shealy and Republican Sen. Penry Gustafson had voted for an earlier version of the six-week ban but said they could not support changes inserted by the House. Shealy criticized a new requirement that biological fathers make child support payments beginning at conception as "ridiculousness." House Republicans also axed a provision expressly allowing minors to petition the court for an abortion up to 12 weeks of pregnancy.
Republican Sen. Sandy Senn denounced new sections permitting civil lawsuits against doctors who violate the proposal and mandating that patients sign an additional form attesting that they had the chance to view the ultrasound. She called the latter requirement an intimidation tactic that is "piling up the paperwork" on women.
Massey insisted the differences were "not significant" and largely technical changes necessary to satisfy one South Carolina Supreme Court justice who previously voted with the court's 3-2 majority to strike the last ban.
The bill includes exceptions for fatal fetal anomalies, the patient's life and health, and rape or incest up to 12 weeks. Doctors could face felony charges carrying up to two years in prison and a $10,000 fine.
The Senate's 15 Democrats, unified against both abortion bans, have largely let the Republican majority debate the issue among themselves. As they have before, Democrats suggested Tuesday that voters should decide the matter. Opponents have also argued that South Carolina's high maternal mortality rates — with even poorer outcomes among Black patients — would grow worse under the new restrictions.
The three Republican women joined every Democrat in voting against the bill.
"I'm conflicted because I want to reduce abortions but I don't want to eliminate women's and mother's rights," Gustafson told reporters after the vote.
Just like when they first entered the state House on Tuesday, the women of the Senate were greeted with rousing applause from the dozen remaining abortion rights supporters as they exited the chamber. All five donned buttons that read "elect more women."
Independent Sen. Mia McLeod said she was disheartened that a male-dominated chamber voted on a bill that would have a "devastating impact on women and girls for generations."
"We should be initiating the discussions because we're the only ones who have firsthand knowledge about what it takes not only to give birth but to raise a child," she told The Associated Press.
While those discussions may be over this session, some of the most ardent abortion opponents in both chambers are already looking ahead to the 2024 elections.
Republican Sen. Richard Cash acknowledged the Senate's current makeup lacked the votes for a stricter proposal but vowed that "the fight will continue" to outlaw all abortions. If he wins reelection, he said "there's going to certainly be a renewed effort to protect life at an earlier point in time."
Shealy, a Republican who rejected assertions that she is a "baby killer" in her floor speech, cited conversations with "real people" in her conservative district as the impetus for her decision.
"I didn't get elected to get reelected. I got elected to do the right thing," said Shealy.
—-
This story version substitutes the 12th paragraph to correct that the Republican women senators argued against a six-week ban as not giving women enough time to make a decision, not 12 weeks.
___
James Pollard is a corps member for the Associated Press/Report for America Statehouse News Initiative. Report for America is a nonprofit national service program that places journalists in local newsrooms to report on undercovered issues.
Copyright 2023 The Associated Press. All rights reserved.