New NIL deal with Iowa State football players encourages Iowans to buy more pork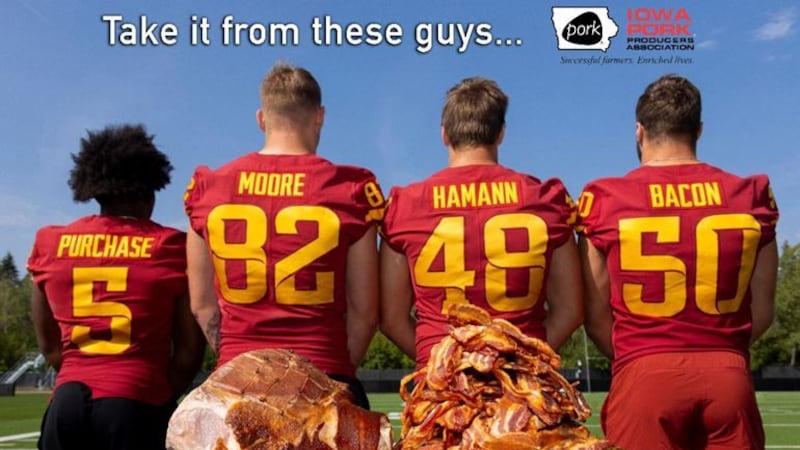 Published: Sep. 25, 2023 at 11:33 AM CDT
CLIVE, Iowa (KCRG) - The Iowa Pork Producers Association is cooking up a marketing campaign with four Iowa State Cyclone football players.
It's an NIL (name, image, likeness) deal with players: Miles Purchase, Tyler Moore, Tommy Hamann, and Caleb Bacon to push Iowans to buy pork products.
The last names seen on the back of their jerseys provides, "Purchase Moore Hamann Bacon."
"After the 'Hamann Bacon' photo went viral on social media following the Cyclones' season opener, we knew we had to jump on this opportunity," said Trish Cook, president of the Iowa Pork Producers Association. "These four young men are not only great football players, they also have strong academic records, and great last names! We couldn't be more excited to work with them in this fun initiative to publicize Iowa pork."
The Iowa Pork Producers Association said it will run ads on social media featuring the four players surrounded by Iowa pork while strategically using their last names.
The deal will also see the donation of $1,000 of pork to each player's food pantry of choice.
"I think it's just hilarious being able to use play-on words on our last names in a super clever way to promote Iowa pork and it's just an all-around great opportunity to bring us all together," said Hamann, a redshirt freshman defensive end for the Iowa State Cyclones.
Copyright 2023 KCRG. All rights reserved.