Ottumwa Thanksgiving Meal Drive Aims to Set a Record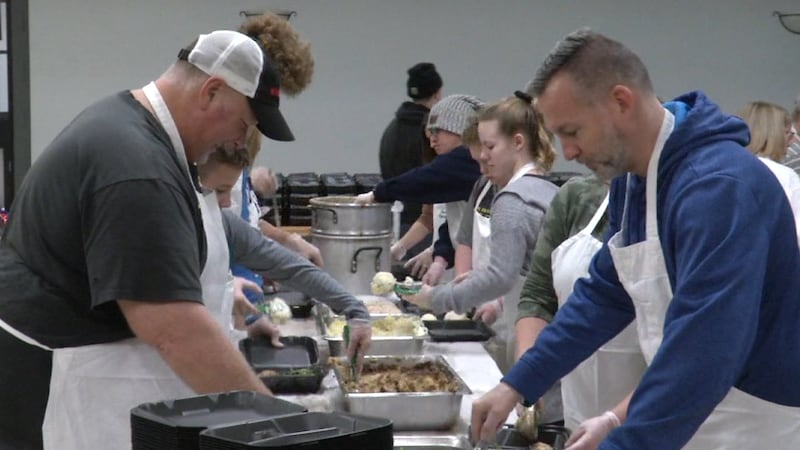 Published: Nov. 14, 2023 at 6:24 PM CST
OTTUMWA, Iowa (KYOU) - 11/14/23
The Annual Ottumwa Community Thanksgiving dinner is looking to hand out 3,200 free meals on Thanksgiving Day (November 23rd).
The Dinner will be held at Ottumwa High School in their cafeteria, which can be accessed from the fourth street entrance. People in need of meals can pick them up, have them delivered to their home, or even dine in with their family. The menu includes turkey, dressing, potatoes with gravy, vegetables and a dinner roll. To complete the feast, they will be handing out dessert as well.
The food is provided through several different personal and business donations. Notably, the Wapello County Foundation, Van Meter Inc. and John Deere. To facilitate those donations, a core group of around 30 kids help prep the food. Then, there are 10 cooks that are set to feed the masses. Where this effort needs help is to package, serve, and deliver the food.
In years past, this effort has done curbside pickup as well as delivery to people's homes. They are also allowing people to dine-in. If you want to box food and/or deliver, organizers are asking volunteers to arrive by 9:15am. Volunteers that want to assist with dine-in and curbside pickup can arrive at 10:45am. Another important shift is clean up. If you are interested in that, please arrive around 11:30am. Organizers say you can come and go as you please. If you only have an hour of time to give, that is more than welcome.
If you are wanting food delivery or to make a reservation for dine-in please call 641-680-6560 before Wednesday, November 22nd. People can expect their food to be delivered between 10 and 11am. If your food has not arrived by Noon, please call: 641-226-2313. These numbers will be accepting calls between 9am and 5pm leading up to Thanksgiving Day.
If you need more information, please call Pam Ward 641-799-9485.
Copyright 2023 KYOU. All rights reserved.