Meteorologist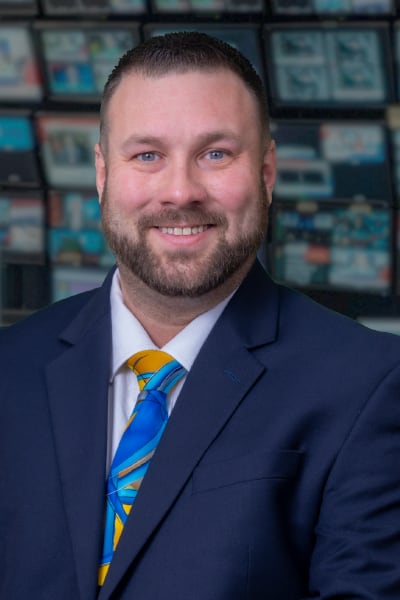 Erik got bit by the "Weather Bug" Early and became fascinated with it at the age of 4. He remembers being very curious about storms but being scared at the same time and running into his room to hide in the closet, but at the same time, he would still peak out and watch them, only to run away again. That fear turned into a passion, and he would be glued to the TV and looked forward to listening to the forecast.
Erik became a Weather Watcher at WLKY-TV, The CBS affiliate in Louisville, KY at the age of 12, giving weather reports on the weekend, and eventually picked up wanting to storm chase, and did so as he got older. Let's just say his 1998 Buick Skylark saw its fair share of Hail Damage.
Originally from Seymour, Indiana (Home of the largest High School Gymnasium in the U.S.), Erik graduated in 2012 with his Bachelors of Atmospheric Sciences, but while finishing up his college studies, he got his first on air gig doing radio at WXKU/WZZB. There, he covered everything from pool parties to the county fairs, did news, and of course, did weather on the weekends.
He did radio until April 2014 when Casper, Wyoming called him, and he took the job at KTWO as their Chief Meteorologist, a position he held until June 2020. During his tenure at KTWO, they became the 1st TV station in the state to be designated StormReady by the National Weather Service.
In 2020, Rapid City, S.D. came calling. Erik joined KNBN-TV as a Meteorologist. There, he covered several events from the Summer Nights concert series, to the Sturgis motorcycle rally, to events at Mt. Rushmore, and everything in between. Working in Rapid City also gave him an even broader knowledge of elevation meteorology.
In 2022, Erik traded the elevation meteorology for something a little more "calm", and moved across I-90 to La Crosse, Wisconsin. He worked for WKBT as the weekend meteorologist. Now he is excited to work at KCRG in the First Alert Weather Lab giving viewers the most accurate forecast for Eastern Iowa.
In his spare time, you can find him somewhere enjoying Eastern Iowa and seeing what it has to offer. During the summer, you can probably find him lounging by a pool, the river or even gassing up the car, and going off the grid by taking a nice road trip.
In the winter season, you can find him outside as he is a sucker for snow and cold weather. (He says his allergies appreciate it immensely.) If he's not doing one of those, you will find him spending some quality time with his wife Taylor and his boys Mason, Danny & Colton.
If you see him out and about, please do not hesitate to say hi! He would love to chat with you!