Meteorologist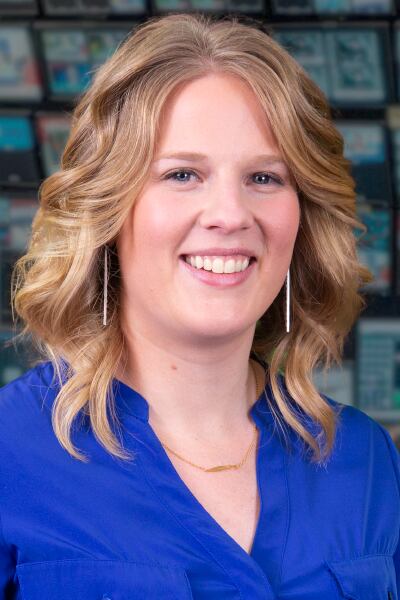 Jan moved back to Iowa to join the KCRG-TV9 First Alert Storm Team during (yes, during!!) the August 2020 derecho. It was a whirlwind of a first few days, but Iowa's crazy weather is exactly why Jan wanted to be a meteorologist. Growing up in north-central Iowa, Jan fell in love with the dramatic and ever-changing weather at a young age and loves that her job keeps her on her toes as it is never the same.
Jan earned her Bachelor of Science in Meteorology from Iowa State University in 2017. While at Iowa State, she was an active member of the American Meteorological Society ISU student chapter and the Central Iowa National Weather Association chapter. She was also active in the school's weather broadcast, Cy's Eyes on the Skies, which she was a director and producer for. After graduating from college, she started her first job just 2 days later in Lincoln, Nebraska, where she worked for Gray TV's network of stations across the state for 3 years including KOLN, KSNB, KNOP, and KNEP.
In 2021, Jan earned the American Meteorological Society's Certified Broadcast Meteorologist designation. This designation is granted to meteorologists who meet established criteria for scientific competence and effective communication skills in their weather presentations. CBM recipients must hold a degree in meteorology, pass a rigorous written examination, and have their on-air work reviewed to assess graphical content, explanation, and presentation skills.
Jan loves helping educate people on the weather happening around them. The favorite part of her job is going to schools and getting out in the community to share her love of science and weather with future scientists. She is a proud advocate of women in STEM and encouraging young ladies to pursue their science dreams.
Outside of work, you'll often find Jan and her husband, Drew, at local or state parks spending time enjoying the outdoors. They are avid travelers and love planning international trips together as well as smaller trips around the US. Back home Jan enjoys baking, playing board games, and snuggling her two black cats, Wally and Max.
Education
Iowa State University, B.S. Meteorology, 2017
Awards
American Meteorological Society Certified Broadcast Meteorologist